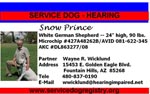 Service Dog ID Card
Service Dog ID Cards are hard plastic credit card size. ID Card identifies th
Product Description
Service Dog ID Cards are hard plastic credit card size. ID Card identifies the working partner for hearing, medical, therapy or trainers.
Providing the following information is recommended if available.
1) photo of service dog and its partner
2) name of dog
3)breed, height, weight
4) AKC number, if any
5) microchip number, if any
6) partners name
7) telephone number
8) home address
9) E-mail address
Must Provide Proof of Need
Click here to provide detailed information for the card.
Click here to e-mail your JPEG or GIF for your ID photograph as an attachment.