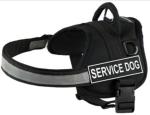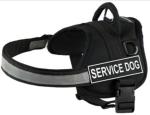 Product Description
This is an ideal mobility harness for working breeds involved in service work. This harness is handcrafted using double-ply neoprene nylon, durable, weatherproof and washable. Althought it is specially designed for working dogs, it is still lightweight and comfortable for everyday use.
Velcro patch displays are on each side of the harness's body which is padded. Reflective trim
(1" wide) is sewn onto the Velcro-lined chest strap. The easily-adjustable chest strap fastens towards the inside (facing the dog's chest) for added security; the girth strap is also adjustable and fastens with a hard plastic snap buckle. The harness also features three heavy duty D-rings and handle.
Harness comes with 2 patches one for each side saying "Service Dog"
Additional patches available:
Do not Pet/Ask to Pet
• Medium $5.95
• Large $6.95
Please measure your dog's chest girth behind their front legs. Refer to the image below right for proper sizing.
Medium 28" - 34"
Large 32" - 42"